April 09, 2012, 04:47 PM
Anne.
Nathan Pacheco to perform at Washington DC
Nathan Pacheco will be performing live at the Washington DC Cherry Blossom Festival on April 14th at 2pm EST at the Washington Monument.
The First lady Mrs Micelle Obama will be attending this event.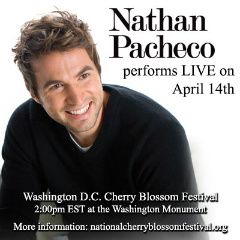 Nathan also has an EP which will be released on May 22nd.
You can pre order is here:
Nathan's EP
Congratulations Nathan!
April 09, 2012, 04:51 PM
MrZapco
WoW that's Big Time! Way to go Nathan!
April 09, 2012, 05:02 PM
Anne.
I saw Nathan perform with Katherine Jenkins in Cardiff in January. The audience loved him.
His EP was on sale after the show.
I love his voice.